JNU – The Factory of Terrorists and Anti-Nationals
JNU – The Afzal Guru Event and Demise of Hanumant Thappa
While the largest democracy in the world mourns the death of the lion son of India, Sri Hanumant Thappa, we must not forget the anti-national elements that reside very well within the country!
#Hanumanthappa you have not died!
You have just brought all the deads alive with your sacrifice for the nation! I bow to your bravery sir!

— Alok Mishra (@PoetAlok_Mishra) February 11, 2016
I was very angry, sad and hopeless with the Jawahar Lal Nehru University authorities yesterday. I cannot forget the tone in which the student appearing on NewsHour denied accepting the bravery of Hanumant Thappa; he did not even accept that Lance Naik Hanumant was a patriot! Where do you live, o ignorant fool? What do you study in that so called reputed institute JNU? A soldier who died ensuring that our soil remains safe does mean nothing to the anti-nation ideals like you? Shame on such people who live in India, breathe Indian air and enjoy food cultivated on Indian soil but bat for Pakistan and terrorists! I will not try to analyse what happened in JNU campus. Rather, I will simply exercise my 'freedom of speech' and say what I think.
[fusion_builder_container hundred_percent="yes" overflow="visible"][fusion_builder_row][fusion_builder_column type="1_1″ background_position="left top" background_color="" border_size="" border_color="" border_style="solid" spacing="yes" background_image="" background_repeat="no-repeat" padding="" margin_top="0px" margin_bottom="0px" class="" id="" animation_type="" animation_speed="0.3″ animation_direction="left" hide_on_mobile="no" center_content="no" min_height="none"]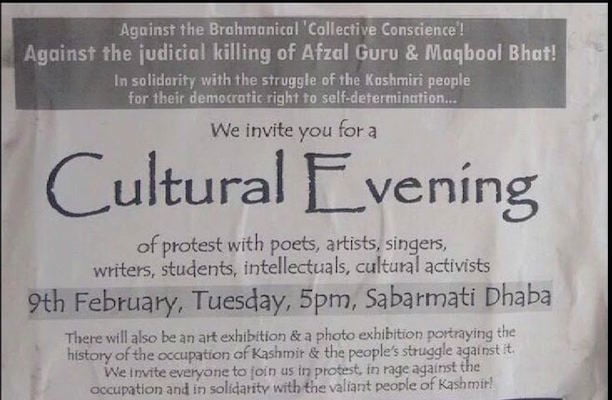 A Glance into the 'Cultural Event'
Anti-India Slogans: Will you endure such a version of this much-manipulated constitutional right 'freedom of speech' that allows a person to denounce the nation one lives? I am quite surprised how easily those 'scholars' in JNU forget that constitution has also ascribed some fundamental duties along with the rights. Let me quote the constitution of India to all those liberals and propagators of freedom of speech who go on tarnishing the image of India in the world:
"to uphold and protect the sovereignty, unity and integrity of India"
A Detailed Brief:
Now you should know what happened during the 'cultural event' dignifying Afzal Guru as a martyr and Shahid. For this, I would rather prefer you a Sudhir Chaudhary version in his DNA. Have a look:
The Twist at JNU
The surprise element is that the same JNU students halted the entire institution when ABVP called Ramdev (the program that he did not attend after massive protest from leftist leaning students). However, at least, Ramdev does not call our India a 'bloody nation'; he does not blame the judiciary system of our country to kill 'innocent terrorists'. Can you believe these anti-national, anti-India hooligans shouted "India go back," "India killed martyr Afzal Guru," "Bharat ki barbadi tak nahi rukenge," and many others like that! Oh my God! Where is Aamir Khan? Where is Shah Rukh Khan? Where are the leaders of Congress and the 'youth magnate Rahul Gandhi? Where is Shobha De who often eats beef?
JNU: The Same Old Story
However, anti-national activities like this are casual in JNU. Every now and then you will come to know about such events. Once I came to know this episode, I found myself very fortunate that I could escape JNU somehow. I always fascinated during my high school days that JNU is a good institution. Alas! What good an institution be, but if it cannot teach the students to respect the nation, go to hell with all the accumulated intellect! The surprising fact is that media has absolute 'no interest' in showing what is happening in that institution. People always blame leaders for wasting their hard-earned money they pay in the form of taxes. They should also protest against this university which nourishes the future terrorists, and why not? Someone who worships Afzal Guru and does not show respect for the deceased martyr Hanumant Thappa has not the right to live in India. And unfortunately, such students are there in the JNU to receive 'quality education'! Shame on them! Shame on the political parties who patronize them! Shame on the media which tries to somehow justify it!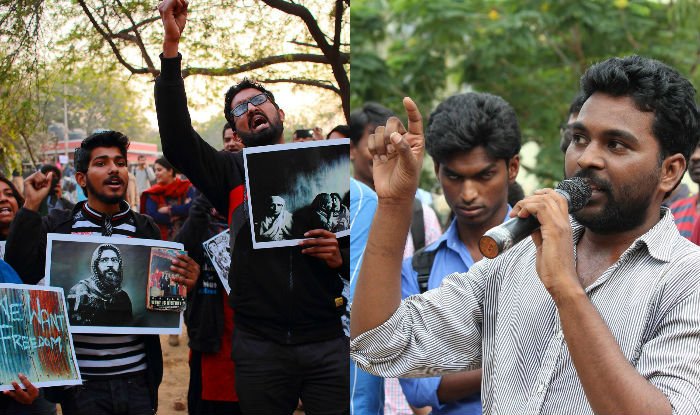 Where is Kejriwal?
The Delhi CM, who is no less than a monkey when it comes to dancing in the public, has said nothing yet on the issue. He is afraid that his 'Muslim vote bank' will be unhappy. He had all the time to shout foul when the Dadri incident has happened.
Better You Choose
Such incidents let us know who is actually on the side of the nation. Now you have to decide what to do. My view is clear – ban those venomous students from entering any institution in the future and simply put them in the jail with a charge of treason and conspiracy against the integrity of the nation. I hope then our quality advocates will come calling it a foul and start writing letters to the president to release those innocent youths! Ah! India!
[/fusion_builder_column][/fusion_builder_row][/fusion_builder_container]