Kanhaiya Kumar Released on Bail in JNU Sedition Case
Kanhaiya Kumar: A classic example of media-made hero
Kanhiaya Kumar out on bail! Finally, I have understood the rocket science of riding on the boat of fame in our country. Abuse the nation; abuse the independent institutions of India; eulogize the terrorists and their terror acts; get arrested; garner sympathy; confess your crime; get the bail by manipulation; come out and roar again whatever you want; Barkha Dutt will meet you; Sardesai will interview you; jaundiced media channels will make you an overnight hero; o dear, YOU ARE FAMOUS!
The Azaadi that I want:
"Azaadi azzadi
Mai bhi mangu azaadi
in napak mansubon se azaadi
in gaddaron ke iradon se azaadi
desh ke dushmano se lenge azaadi!"
Kanhaiya Kumar: What our media did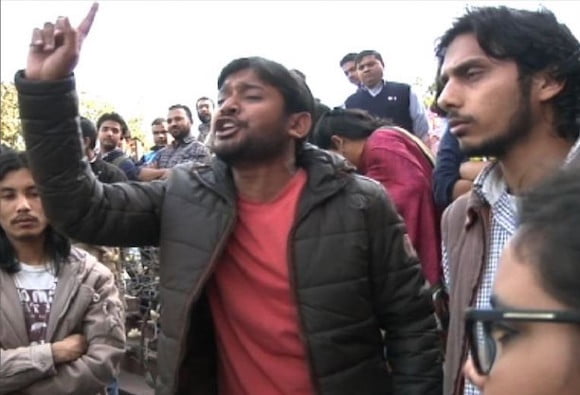 I am quite surprised to learn the way in which all the national media houses have covered this entire event. A person who is charged with nothing less than sedition; a Kanhaiya who has been granted a mere bail on several conditions; a student who has defied the law of the land is being rendered into such an important person who could be compared to the legendary Che Guevara! I am aghast to see the 'naked dance' of these news channels who are celebrating as if they have proved India has ceased to be a nation and JNU is the new identity of INDIA! I have a simple request; dear media people like Rajdeep and Barkha, have you gone through the verdict forwarded by the honourable high court? If you could not find the time as I understand you had to cover this important issue of your darling Kanhaiya, I will show you the copy of this history-defining verdict:
The verdict copy starts with this great song in the film Upkaar
'Rang hara Hari Singh Nalve se,
Rang laal hai Lal Bahadur se,
Rang bana basanti Bhagat Singh,
Rang aman ka veer Jawahar se.
Mere Desh ki Dharti sona ugle
Ugle here moti mere desh ki dharti'
The judgment also upholds that the slogans raised cannot be camouflaged under the freedom of expression act. Here are the slogans mentioned in the high court verdict on Kanhaiya Kumar sedition case:
'1. AFZAL GURU MAQBOOL BHATT JINDABAD.
2. BHARAT KI BARBADI TAK JUNG RAHEGI JUNG
RAHEGI
3. GO INDIA GO BACK
4. INDIAN ARMY MURDABAD
5. BHARAT TERE TUKKDE HONGE– INSHAALLAHA
INSHAALLAHA
6. AFZAL KI HATYA NAHI SAHENGE NAHI SAHENGE
7. BANDOOK KI DUM PE LENGE AAZADI.'
A great journalist of this country Sri Rajdeep Sardesai ji says that this judgment is a sort of 'too judgy' verdict. O dear! Rajdeep, have you lost the sense that tells you what 'shame' is? Do you endorse these slogans? If your answer is yes, go ahead and say whatever you want.
The copy of high court verdict clearly warns that Kanhaiya Kumar should refrain himself from directly or indirectly participating in any anti national activities further. Ye kaisi azaadi hai?
here is link to the complete verdict document released by the honourable high court of Delhi: http://lobis.nic.in/ddir/dhc/PRA/judgement/02-03-2016/PRA02032016CRLW5582016.pdf
The Unfortunate Politics
After all this episode, I don't see why the people like Kejriwal and some senior congress persons are ready to deem this 'deshdrohi' Kanhaiya as our revered Sri Krishna? Have you lost your senses? And whom are you saying Kansa? Are you referring the constitution of India as Kansa? Or you are trying to put Bharat Mata in the witness box? Shame on you everyone who is trying to render all this high voltage drama into a kind of victory moment.
In fact, it's a sad day in the history of India where we see a culprit walk away. Do you know who was in the team of advocates who fought for this Kanhaiya? Mr Kapil Sibbal!