Welcome to Alok Mishra's Website!
rave with me as do I every day…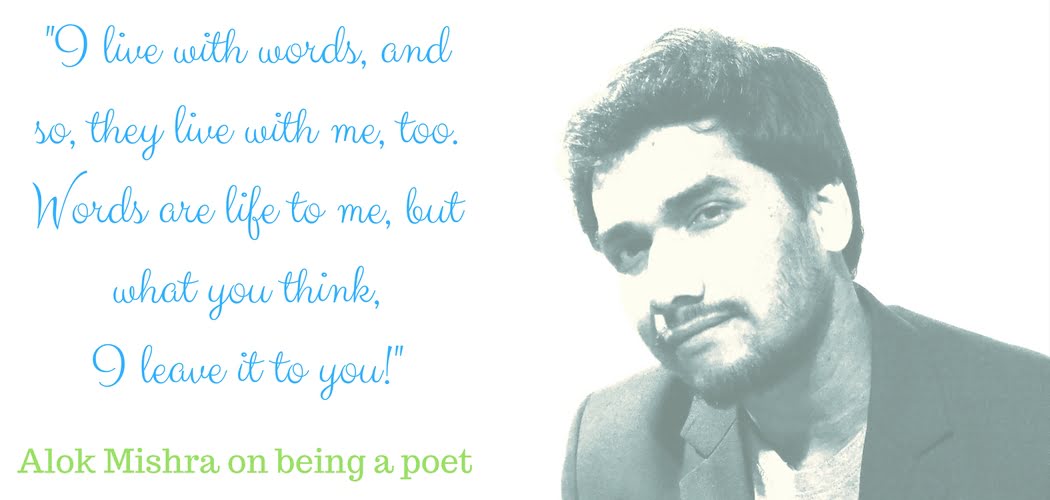 "Poetry is not only making music to others' ears. Poetry is beyond music; poetry is making the world aware of what they have in plenty – hope. Poetry is making people understand what they need in plenty – hope!"
Defining the definition…
For Alok Mishra, the unusual, the invented phrase – 'jack of all trades master of some' perfectly settles home! Alok is a poet, an author, a juvenile philosopher, a part-time footballer, an ambitious entrepreneur, an ex-cricketer, believer in science, a post-graduate in literature, a tech-enthusiast, a person who loves soft rock as well as Eminem as well as Bhupen Hazarika… how longer a definition will it be?
Alok Mishra now
Take it like that – Alok Mishra is the founder & Editor-in-Chief of a reputed and popular international literature Magazine – Ashvamegh. Before everything else, he is a poet since those high school days. Alok has authored a book – Being in Love, which majorly focuses on the issues of honour killings and possible remedies to the problem. He also published a collection of 13 weird poems and the book was entitled – 13 Untitled and Weird Poems. The book remained bestselling poetry collection for a good number of days. 
As a Book Critic:
Certainly one of the top Indian book bloggers today, Alok has established himself as a well-known book critic providing his valuable opinions about the books he read by different authors – emerging and established ones. He reviews books more often and posts them on this official website where you can read them easily. As a book reviewer, Alok has been active for more than 5 years now. He has also established BookBoys PR, the only PR company in India that solely works for authors and publishers – giving them the space they deserve on top book review websites in India.
Alok Mishra on a professional level
Alok has established Ashvamegh Publication, an author-friendly and low-cost self-publishing company offering its services to authors in India and abroad. In the past, Alok has worked as a content strategist for almost a year and half in New Delhi and came back home, leaving the office drab behind. Now he offers his expert advise to individuals & organizations in the content area. He has time-tested abilities and successful projects in his portfolio. Alok Mishra has completed Masters in English Literature (December 2014, Nalanda College, Biharsharif) with awards like Best Student of the Batch, Batch Topper, and several others in debate and speech competitions.
What are the recent ventures of Alok?
Very active on LinkedIn & Twitter, Alok believes in the positive & constructive use of social media. That's why he has vouched for a group of Ashvameghians on WhatsApp. This group, with members nationally & internationally, talks literature and various aspects of literature. On this blog, Alok writes about English Literature (notes helping students), books & reviews, sometimes politics and most of the times, his poems.

Connect with Alok on Social Platforms: