Retrace Love by Malini Amaladoss – Book Review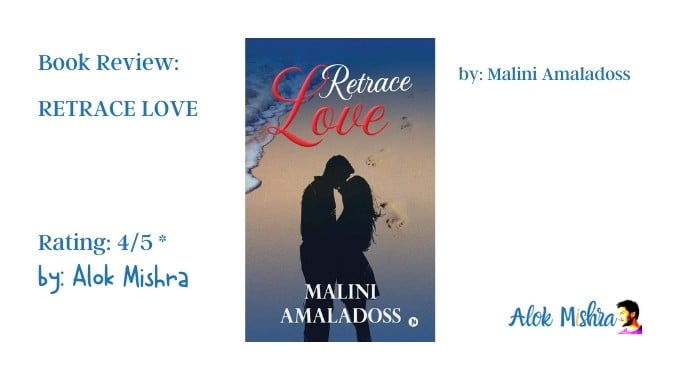 It was one of those moments that comes in the lives of the readers very rarely. I was expecting Retrace Love to be a novel that might exhibit most what most other novels by contemporary novelists do. However, to my wonderful surprise, and also to my delight, Malini Amaladoss does not only beat most of the contemporary novelists in India but also gives them a score to chess – bring out something which is more than just a dry romance without any creativity. Durjoy Datta and a few other youthful novelists must read this one to get some insight. Though this is the very first novel by this novelist, a woman who has been working as a software engineer for a long time now, settled in the USA, Malini has been able to exhibit her writing skills, communication with the readers as well as an understanding of the art of novel writing.
This is a story that features four central characters in the form of Tina, Meghna, Neil and Ray. A few other characters appear with time and fade away but these four remain in-tact along with Kartik, Tina's husband. The novel begins with Meghna slipping into a coma after facing an accident while going to pick her daughter from the school, in Canada. The next chapter brings the readers to the USA as they meet Tina, the best friend to Meghna once upon a time – about 10 long years ago. She rushes to the hospital in Canada as she knows about the incident and once she reaches to her friend lying unconscious on the hospital bed, the novel takes the readers into a flashback… everything comes back to please and pinch Tina and the readers.
The flashback and the present, both the layers of the storytelling have been handled fairly by Malini and she has been able to involve her readers. The story is straightforward, gradually unfolding, and taking its time to get a flow. It tells about the wonderful past that Tina and Meghna had together during their respective studies and hostel stay. Their love affairs which were pleasant to experience, the fall-out and then a long gap… Tina is in love with Ray, a doctor and Meghna is in love with Neil, a rich man. While Meghna and Neil get married, Tina and Ray fall out because of some confusion the have – it's about Tina's job as a journalist on the TV and a news anchor and Ray's father's hospital getting dip into some scandal that involves poor people losing not only their relatives lives but more than that.
Malini Amaladoss has not shied away from detailing the love-making scenes in her novel. However, her descriptions are not at all obscene and she has, yet, let the readers enjoy the moments of ecstasy lived by the characters in the novel. And this is one of the things that separate her from many other contemporary novelists. She goes beyond the physical pleasure and tries to explore other layers of the relationship between a man and a woman. Tina's relationship with Ray and later, her marriage with Kartik are very well explained by the author. While Meghna's successful love affair with Neil but a failed marriage with the same man have also been wonderfully portrayed by Malini and I am sure that the readers will consider these intricacies of human life as described by the lady novelist in the very debut work…
The plot might take some time to reveal the genesis. It might dub as slow as well. However, this might be defended by calling it the demand of the story. Malini has used very simple language to communicate the thoughts of her characters. She has used Tina's point of view in the entire novel except a few chapters where Meghna thinks and talks. Tina might be a dominating force in the novel and Ray might be seen as a character who comes to rescue others in need, confusion or chaos of thoughts. Ray and Neil's episodes with Dr Kripa are also very important, hopeful and positive given the scenarios discussed in the work. The theme is grand and it might have been covered a little better but whatever Malini could do is certainly the best it could be, looking it objectively and also keeping in mind that it is a new thing for the novelist to do.
In the end, I could end my review of this novel by saying that Retrace Love is about being positive, composed and calm. Love gives second chance… to all of us who are hopeful about it. Neil transforms from being a person in darkness to someone entirely a changed man. Ray transforms from an alcoholic to a responsible husband, father and doctor. Meghna and Tina's fate also change just because they decide to give love a second chance… are you ready to Retrace Love? :)
Enjoy the work by Malini Amaladoss by getting a copy from Amazon India in Kindle or paperback format. The link is given below. Click the same and get your copy now:
Buy the novel from Amazon India – click here
Review by Alok Mishra
Retrace Love by Malini Amaladoss – Book Review
Summary
I will certainly say that this novel is beyond being simply a romantic novel. It is about love and life. It is about human nature – how we react to things that we suffer… Malini has done well! The novel could seem a little lengthier than it might have been but the story is worth reading. 🙂
3.
Retrace Love by Malini Amaladoss – Book Review