Moon Child – Poetry Collection by Rushali Mukherjee – Book Review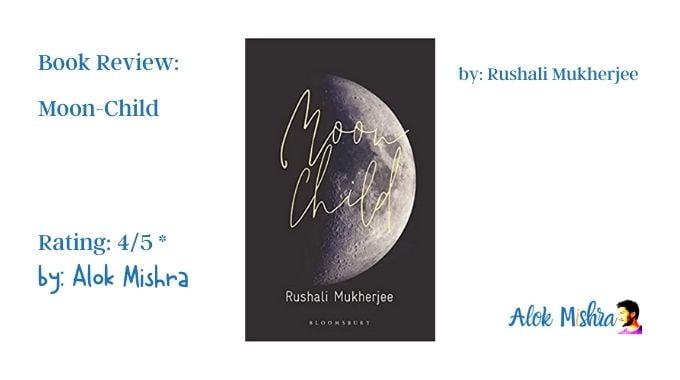 There are occasions that demand special attention from us – upon things we do or upon things we watch or the books we read. The beginning of this year has been wonderful for me because I got the chance to read many books and out of those many titles, I have decided to post the reviews of some of those here so that the readers of my blog can enjoy these recommended titles if they are looking to make this year book-some. Here is my review for Rushali Mukherjee's Moon Child, a collection of poems and sketches by here, published by Bloomsbury Prime.
"Because I had been my own muse all along"
And, in short, this is the story of this poetry collection by Rushali. She has mused about her own experiences, losses and gains, love and feelings, emotions and thoughts, relatives and distant people, perceptions and concepts, wonders and mundane… she has written on the subjects that she discusses within herself, most of the times. A reader can mark the reflection of a very sudden outburst of very subjective emotions on the lines that the young poet has conjured in her maiden publication.
However, it'd be unfair on the part of a critic (like myself) if he or she simply rubbishes or subdues the poetry of this young poet by marking it as merely a cry of woe or a melancholy journey of a poetess seeking respite or even solace in the world of words. At times, Rushali has been able to impress me, as a critical reader, with her prosaic in tone but poetic in depth lines and I am very much inclined to share one such poem, on page number 72, that begins with the word 'attachment' and ends with the word detachment, having simplistic lines that convey the idea of the poet very clearly.
"Attachment
Is like a frail string 
Held tightly at both ends 
…
But if it's pulled too hard from one side 
It slips from the hand of the other 
Leaving them with a heavy sense of 
Detachment"
Likewise, there are many occasions on which Rushali has been able to influence me, as a critical reader as well as an aesthetic admirer of art. She has also reinforced her thoughts in poetry with her sketch art, which is wonderful no doubt. It works like a fork that comes to penetrate your mind and heart with a double or triple force of emotions and visual art coupled together on the same page. However, it is not a surprise that a young poet has, at times, failed to perceive poetry in the best possible sense and this is something that anyone, a reader of a critic, can certainly understand. Rushali is on an emotional chariot, most of the times, and it is inevitable for this chariot to lose balance here and there, then and now. And the same has happened in this poetry collection, Moon Child, as well. The poems, the ones that are simply recollections of memories or unfulfilled wishes, are merely caricatures in words – you read and you understand. Though this might suffice the direct definitions of poetry, poetic aesthetics are certainly found wanted.
To sum it up in frank and candid words, without much ado and any vain intellectual jargon, Rushali Mukherjee's attempt at poetry is a welcome addition to the world of Indian English poetry – what could be better than seeing young talents like Rushali take interest in writing and presenting the same to the world! It should not be a surprise that readers should see more poetry collections from this poet in the near future (she is just 18) and, to be frank, I would certainly want to see more refined attempts and mature version of Rushali's poetry as she grows up and develops more perspectives about various things in the world. Moon Child may be called an amateur attempt at poetry, well-deserved attempt at sketching and an overall impactful attempt at literature. I extend my best wishes to the poet!
I recommend this book to the readers of Indian English poetry and I am sure every reader who goes through this work will find something to cherish and many things to connect… you can get a copy of this collection from Amazon India in the paperback format right now by clicking the link to Amazon below:
Get a copy of Moon Child – buy from Amazon India now
Review by Alok Mishra
Moon Child – Poetry Collection by Rushali Mukherjee – Book Review
Summary
Rushali's poetry is fresh, young and bold… courageous as well because she does not hide her feelings in any way. She can make something happen out of nothing… she can conjure poetry out of her raw emotions and thoughts and that's it. You cannot expect a mature verse all the time but yes, most of the times, you will feel like reading wonderful poetry and visualising the same together with sketches that she has offered…
2.
Moon Child – Poetry Collection by Rushali Mukherjee – Book Review