How Leaders Decide by Harjeet Khanduja – Book Review
My romance with business books, books on leadership, and books on making it big is old. I dreamt of being an entrepreneur when the conventional career path seemed predictable and problematic to me. In the journey from a dreamer to an achiever, I have had a good time with books. The romance still continues and because I deal in books, the romance should stay for life. My encounters with books are, therefore, more than often. In the flow of life, I found Harjeet Khanduja's latest book on decision-making, How Leaders Decide: Tackling Biases and Risks in Decision-making. And believe me, this is like a textbook you cannot complain about. Interesting, informative, useful, practical, relevant, contemporary, full of examples you will relate to and inspiring… there are many qualities in the book that I can sing and very few or even negligible misses that I can bring out. In short, How Leaders Decide by Harjeet Khanduja is a book to go for if you want to understand the nuances and the advances of organisational decision-making.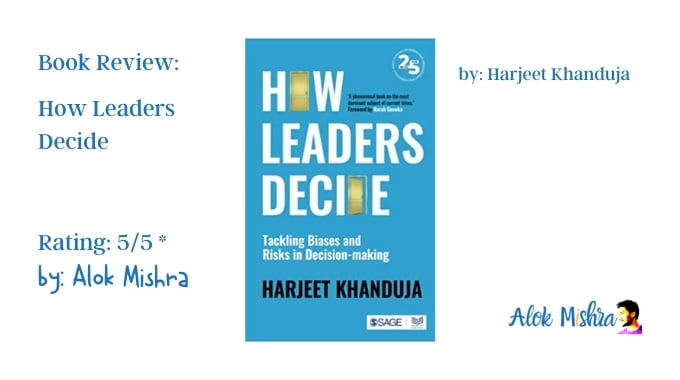 SAGE Publications (India) brings a reputation with itself. However, in this case, I would rather say that the publisher has brought themselves more reputation by publishing this book by Harjeet, a well-qualified, expert, and popular person to write on this subject. Harjeet Khanduja is currently the vice president of HR at Reliance Jio, a company the world knows. He has worked in the telecom industry for a long time. He has worked in various other industries in leading positions and knows how the corporate functions. He must have been part of many key decisions taken by the companies he has worked for (and works for at present). He has spoken many times on the TEDx stage and delivered many keynote lectures in IIMs and reputed management institutions across the nation. In short, Harjeet's qualifications perfectly synchronise with the subject matter that the book How Leaders Decide presents to the leaders. This is not by chance but by design.
The book offers many lessons and ideas on decision-making scattered in 25 chapters and perfectly (and evenly) divided into 5 parts. A reader will have to read the book in progressive order, chapter by chapter starting from the first to the last. Language, style, content delivery, choice of examples, analysis, expert opinion on various types of decision making, the non-evasive attitude of the author, and the simple approach to a complex subject have been the highlights of this book for me. As someone who has been running a company for about 7 years now, I perfectly understand and fully agree with the analyses done by the author. Moreover, I realised that there are many theories I learned after reading this book. I could also realise when I make decisions that tend to be based rather than rational and good. Thanks to Harjeet!
Those who are students of management programmes, entrepreneurship, and even in any other field that requires decision-making at an organisational level on regular basis, should read this book for sure. How Leaders Decide is about leaders who have successfully stirred their companies to the heights we could admire and also the leaders whose bad decisions or lack of timely reactions pushed them into oblivion. This book practically shows the readers the power of good decisions and what good decisions can bring to an organisation. At the same time, the book also analyses various kinds of biases and risks that are involved while making decisions and how these affect the decisions as well as the impact of the decisions. A complete package has been offered by the author in a very distinct, convincing and convenient way.
You can get a copy in paperback or Kindle version from Amazon India today and read the book right now! For your convenience, I am adding the link to the book on Amazon India below:
Click here to get a copy now – Amazon India Book Page
Review by Alok Mishra
How Leaders Decide by Harjeet Khanduja – Book Review
Summary
How Leaders Decide: Tackling Biases and Risks in Decision-making by Harjeet Khanduja is a must-read book for anyone who wants to understand organisational decision-making in detail. Nothing to complain about! Read, understand, learn, excel!