A Carol of Him by Twisha – Book Review
A Carol of Him is a novel written by a very young author Twisha. The blurb says it's a philosophical fiction and reading the novel might reflect the same as well. The author is only 16 and so, you can expect some naive turns and twists in her novel but does age say everything? Let me share my experience reading this one. I will share the high points and the low points and also the ideal audience for this one.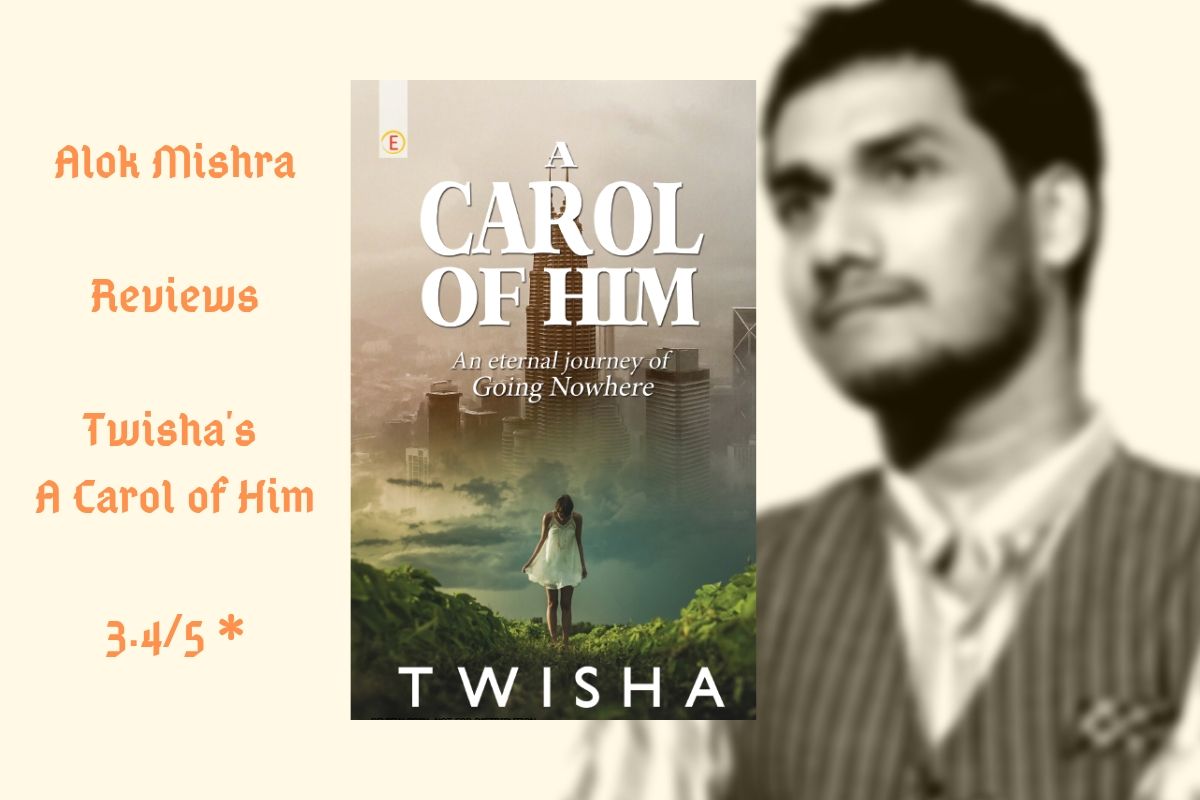 The novel is set in the USA and place of actions vary. It begins in Portland and then the novel takes us to different places. Readers are introduced to Carol, a teenage girl and her parents and sibling. Since the beginning of the novel, there is a sense that Carol is a free-spirited but indecisive girl who cannot be sure of her actions and her expressions. However, on the other side, readers can also argue that nobody does enough to understand the ambitions and aspirations of Carol. She is set to join a boarding school in Florida by her parents and relatives.
Florida isn't an experience that Carol would like to remember and she is brought back by her uncle John who breaks the horrible news silently – Carol's parents died in a plane crash and this goes down heavily on her. She almost loses her sanity and has to undergo isolation for some time. The story of the novel moves with several pauses that compel the readers to sympathise, empathise and ponder the situations people live with – sometimes, a reader might sympathise with Carol and at other times, one might feel for John and his family.
With the progress of time, Twisha lets her plot further. A Carol of Him leads the readers to Pennsylvania where Carol is supposed to study medicine. However, she develops a rather different fatherly feeling toward Abigor and things go out of her hands. Eventually, she has to leave her study in between and flee from the university as well. Many people come in her life – Abigor, Christopher and also Jake. However, Carol's ways of life are different and she has problems with anyone. She begins stealing, conning and also drugs… Author's long monologues can help the readers fathom the conditions of Carol.
The novel is indeed elevated and the narrative is very emotive. Twisha hasn't written something that usually a 16-year-old would have written. However, as the characters are all foreigners and also showing their deeper roots in faith – John communicating to God in a child and Carol finding solace in Church, the readers in India might find it a little difficult to relate to this novel. They might sympathise with Carol and her conundrum, however.
The advantage that this novel has is its length. It is short and moves rapidly. The narrative might be a little itchy but it does have an impact on your mind once you begin reading this. A reader can easily understand that the focal point in the novel is on Carol. This will help them get along with the shifting contours and the emotional journey of Carol.
Critical Conclusion:
Twisha has made a genuine attempt and she has written what she liked. For her honest narrative and her bold decision, I commend her. Moreover, as fiction writing takes time to develop, she will certainly get better and better with time. In this novel, she was certainly able to impress me with her mouthpiece in the form of Carol Sinclair. The protagonist shines and other elements in the novel do need to be better to keep the attention of the readers intact.
Ideal readers:
A Carol of Him can be read by patient readers who like to give the fiction some time to flourish and unfold. The readers who like reading action-packed heroics of the modern day might find it difficult to maintain pace with this piece of fiction.
A Carol of Him
Summary
Story – Good
Plot – Okay
Narrative – Good
Protagonist – Way better!
Twisha's imagination needs to be channelled and focused. Her protagonist is the best outcome of her debut attempt!