The World's Oldest, Most Powerful Secret Society | Book Review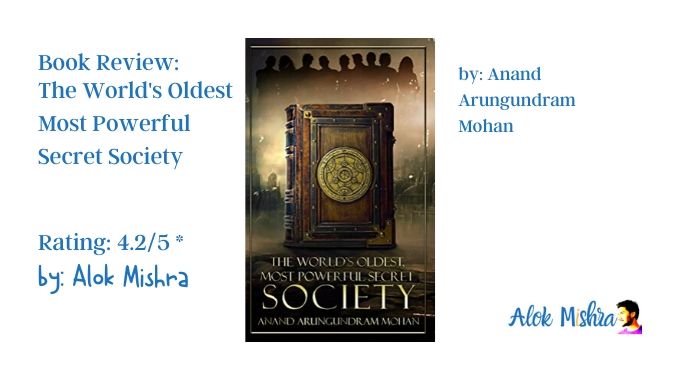 Anand Arungundram is one of those authors who seem to understand what he exactly needs to do in order to deliver to his reader base the best piece of literature they want. His novel The World's Oldest, Most Powerful Secret Society by him is an example of how children literature should be and why it must cut short the use of highly intellectualised language and diction. I will be doing an injustice if I say that I am impressed. Being honest, I am highly impressed by his style, choice of words, the flow of the narrative and the novel overall. The mistake that most of the Indian authors active in the field of English literature do, has been avoided by Anand. 
The World's Oldest, Most Powerful Secret Society begins on the battleground where Ashoka is fighting his life-changing war at Kalinga. Post victory, he had decided to put down his sword and accept a non-violent way of life. However, to further ensure that no devastation like this takes place in future, he formed a secret society of 9 persons. Here comes the twist that is a piece of creativity of the human mind. Anand seems to have it activated as he could think beyond the realms of ordinary imagination. However, coming back to the plot, these persons Ashoka chose, were told to collect knowledge on various subjects including the impossible science for alien communication and flying vehicles. When the novel begins in the present time, the readers meet 9 children (teenagers) who are friends and all have been born the same day, somewhere in Hyderabad. These guys are petty ordinary and living their lives happily unless, one day, the hammer of fate strikes and one of them, Gopal, dies during a cricket match. Thereafter, the novel changes entirely. The readers will have a very good time reading it as they can read flying chariot creating havoc in the sky and flying super-kids further adding to that. It will be fun! By the way, the kids are on their way to bringing their dead friend back. 
While the novel seems pretty comfortable and unique in terms of plot, it is totally understandable that the piece of literature meant for children and teenagers will have these fancy pots and magical powers. Nevertheless, the novelist is not very just to his characters and he could not be objective in giving all of the kids their due space and the conversational life they might deserve. Though I am sure that the kids will not mind that too much, adults may ask – who are the other guys? What do they do? What do they think about this and that? And so on… That is an error of biased characterisation most of the authors do. 
Overall, The World's Oldest, Most Powerful Secret Society by Anand had left good impressions upon me as a reader casually and a serious reader and also a book critic. I would love to recommend it to the readers who are going to love reading it. This might be an ideal read for the kids who can understand English without the help of their parents. Everyone above that level can easily enjoy what Anand Arungundram Mohan has done with the plot of this novel and also with the theme that is founded upon imaginative creativity… All the best to everyone who decides reading it. 
You can get the Kindle copy of this novel from Amazon India by clicking the link below: 
Buy the novel – click to buy from Amazon India 
The World's Oldest, Most Powerful Secret Society | Book Review
Summary
The World's Oldest, Most Powerful Secret Society is a novel wonderfully served to the readers of fantasy fiction by Anand Arungundram Mohan. It deserves an applaud for its imaginative prowess and storytelling that is very targeted.
2.
The World's Oldest, Most Powerful Secret Society | Book Review