Collected Poems by Jeet Thayil: Book Review
Jeet Thayil's poetry collection, Collected Poems, published by Aleph Books in 2015, was on my reading desk last week. Though I remember purchasing this collection the previous year, perhaps in December. However, my busy schedule and encounters with other poets and novelists and acerbic kept me away from this happening collection of poems. I call Thayil's poetry collection happening because it forces you to think about many things at regular intervals. Which is, if you see it objectively, good as well as bad for any poet. While it may seem that the poet is learned and he wants to make the readers think of so many things the poet knows about, this is also not very far off the reader's thought that the poet cannot begin a certain idea and end it naturally, logically and comfortably without being distracted too many times.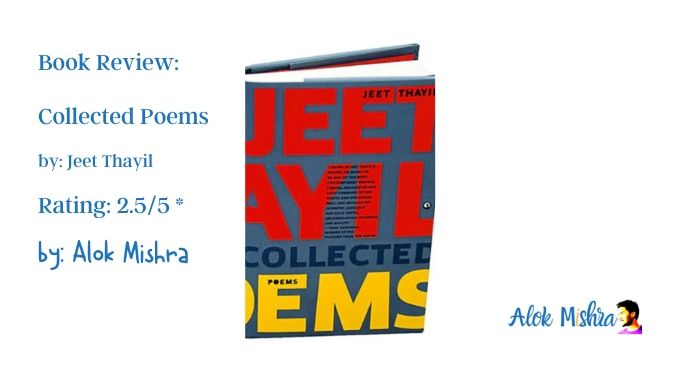 Thayil's poetry collection of 2015 contains all his previously published and unpublished poems (as the book claims). However, it begins in descending order and we reach in the year 1992 after navigating through the years 2015, 2014, … 2000. 1997…. While it may be interesting to note that the poet must have wanted to keep his early writings for the last and the latest writings for the beginnings. That is a good strategy and I agree – it worked! 
Know more about the poet and the novelist – Jeet Thayil (opens on The Indian Authors website in a new tab)
Thayil's poetry, in the present collection, works in descending order. The random poems which are untitled or just randomly written make more sense than the poems he has written in some sort of collections or form. For example, I came through a series of poems with the first line by people who might be Thayil's friend. Those poems, to be honest, did not connote too much to me and I was unable to drive anything out of those that could be deemed as important. On the other hand, ironically, the poems that he seems to have written in a hurry and dutch courage are the poems that made more sense to my reading nerves and I truly enjoyed those. 
The Collected Poems by Jeet Thayil has more than 300 pages and not every page will hold your attention for more than the seconds you invest reading that. However, there are the poems, shorter in length, almost a little lesser than half the page, which will make you think more than hours. Such is the power of poetry! Thayil's poetic prowess is inconsistent, hyper, and unstable. However, when his imagination meets the right choices of words, there is a powerful verse that he creates. Sadly, it happens very rarely in this collection and you will notice that only a few times. When you notice, do enjoy it! 
You can get a copy of Collected Poems from Amazon India. You can click the link below to go to Amazon and buy this and many other books. 
Click to buy this book – Amazon India 
Collected Poems by Jeet Thayil
Summary
Collected Poems by Jeet Thayil is a wonderful collection of poems with poetry that is not stable. It is chaotic in nature and matches the eccentric life of the poet himself.
1.
Collected Poems by Jeet Thayil: Book Review