The Penthouse by Niraj Sharma – Book Review
Book: The Penthouse
Author: Niraj Sharma
Publication: Ashvamegh Publication, 2019 
Pages: 255 
Genre: Crime Thriller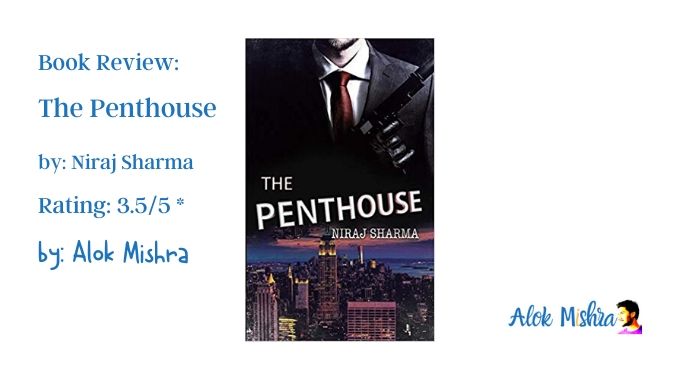 Niraj Sharma's crime imagination travels to various dimensions and eventually reaches the destination where a criminal begins to think about his past, present and future to come. Vito Ricci, the Italian ambitious young man who aspires to become rich by hook or crook meets the gangsters and ventures into a crime family. He excels in narcotics and becomes a coveted drug dealer in his area, locality and country. Niraj Sharma has recorded the progress of a criminal and the enlarging circle of ambition in Vito Ricci very practically. The novelist has given the readers a chronological analysis of Vito Ricci's mind which adds many more colours to a general crime fiction novel. And that, to be a little over-driven in my ideas, I think matches the skills of some of the best crime thriller novelists in India today… 
Vito, undoubtedly, is the central character around whom the entire novel revolves. He comes from Italy to the USA with an order by his boss to expand the business of drug. He indulges in this business of narcotics with expertise and rises to the heights very quickly. So much so that Vito buys a luxurious penthouse with his illegally earned money and begins living there with his friends and partners in crime. In his life, enters Alicia who eventually becomes his beloved. His parents are also very happy with Vito's rise but their happiness stands on the foundations of a lie that Vito is a real estate developer, not a criminal. This truth and lies behind the 'truth' constantly irk Vito's conscience and he inches close to restlessness day by day. 
Inside the penthouse, there is luxury, wealth, conspiracies, comfort, trouble, hatred, love, regret and a hunger for more… The Penthouse becomes the symbol – as it stands tall – of many things at the same time. The readers can see mornings taking place in the penthouse in a new way every day. The readers will find every new day in the life of Vito decorated with new tasks, new goals and newness but for a certain time. Once the time changes, things begin to fall apart and Vito has to disclose to Alicia what he does in reality – deals in drugs. Will he be able to save his relationship? Will he be able to rescue himself from the company of criminals? Will he be able to get away from this world of crime and violence? How many will lose their lives? How many will be able to go to that side of the line harmless? The novel gets intense with time after a slow beginning. 
On the technical front, The Penthouse has many qualities that modern novelists can learn and many shortcomings that modern novelists can learn to avoid in their writings. It begins slowly; a crime thriller novel is supposed to begin with a pace that can take the readers by surprise. The narrative is simple and it does not offer more than one layers. However, the language is simple and it connects with the readers of the time. Niraj Sharma does not use vague terms or phrases that can disconnect the readers from his story. This is something that novels of the time should keep in mind. The theme can be construed from various angles and it has a prism-like scattering effect. It is not uniform but its vividity is charming. Crime thriller elements in this novel elevate themselves from the ordinary level of crime and retaliation to crime, realisation, repent and resolve (does a resolve happen?). Niraj Sharma, to be honest, has done a decent job in this novel. He could always make it better than what it is, however. At the same time, whatever he has done with The Penthouse is more than enough to keep the readers involved… a little after the beginning… with the novel to its conclusion which is cult-like crime completion that readers of crime fiction can understand after reading. 
All those who are interested in reading this novel can get a copy from Amazon India by clicking the link below: 
Buy the book – click here to buy
The Penthouse
Plot

Narrative & Language

Storyline, Flow, Conclusion & Impact
Summary
A novel which makes perfect one-time reading for the readers who like reading crime fiction… though this will not overwhelm you, it is sure to keep you engaged to a great length… do try it!