Shilpa's The Elephant Chaser's Daughter Launching Tomorrow
Shilpa Raj's memoir The Elephant Chaser's Daughter, which happens to be her debut book as well, is going to be launched on 28 July 2017, tomorrow. The book is already in the bookstores as well as on Amazon online store. Highly anticipated, this memoir has already started selling copies in bulk! Shilpa's debut work has become the centre of the buzz because of the author's background as well as her struggles to reach this grand stage where she has transformed herself into an author to watch for. I have already written about author Shilpa Raj in detail and you can read that article here:
Today, I will be giving my readers a perfect outsiders' view of the book by Shilpa, The Elephant Chaser's Daughter. The book, as earlier told, is a memoir in which Shilpa has narrated about her journey until now as well as her family. She tells the readers how was her childhood, her schooling, her college life and other things personal. Not only that, Shilpa also goes on to explore the memories of her parents and grandparents to give the readers a sense of her ancestral history.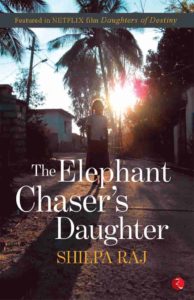 The readers must know that Shilpa Raj belongs to a family which is considered to be the 'lower section' of our society. Shilpa has explored different dimensions of being born into such a section of the social structure. She writes about the difficulties that her family had to face. And easily understood, her problems as an individual becomes universal for each of the girl belonging to a Dalit background, as well as her family's problems, become universal!
Another important thing about this memoir which will surprise you is the maturity with which Shilpa has written it. This is just her debut book which took her a period of almost seven years to be completed but you will seldom find the instances where you can complain about her writing… be it the selection of genre or theme… be it the plot she develops or be it the language used for the narration… everything just seems to be at the right place in a right time!
Readers, her memoir The Elephant chaser's Daughter is going to be launched tomorrow and I would recommend all the serious heads out there, please read her book once. I am sure you will be waiting for something new from Shilpa after you read her debut work! I will be posting the book review very soon.