Monsoon Minds by Ravi Nambiar | Review
My reading sense, I will say, can be soothed by only those few books which have something uncommon with them – a certain break free from the drab and a certain amount of 'that unknown' thing which can keep a reader spellbound. That's the reason you will find my reading list with a number of books most of the younger readers might not have even heard of those! In modern fiction, I seldom read any with joy – but yes, at times, I come across such books which have that quality I look forward to, and one such, I will say I have found recently. Monsoon Minds is a collection of short stories by Ravi Nambiar. I got a chance to read and review the book. I will say I found myself lucky with that because the book is quite different from what a modern fiction ought to be… there is compassion among the characters; there is the rural backdrop; there are village days and nights; emotions are simple and raw… these things, you cannot find in Durjoy or Bhagat who only care about keeping the food somehow spicy. (Yes, you got it right – I am blunt!)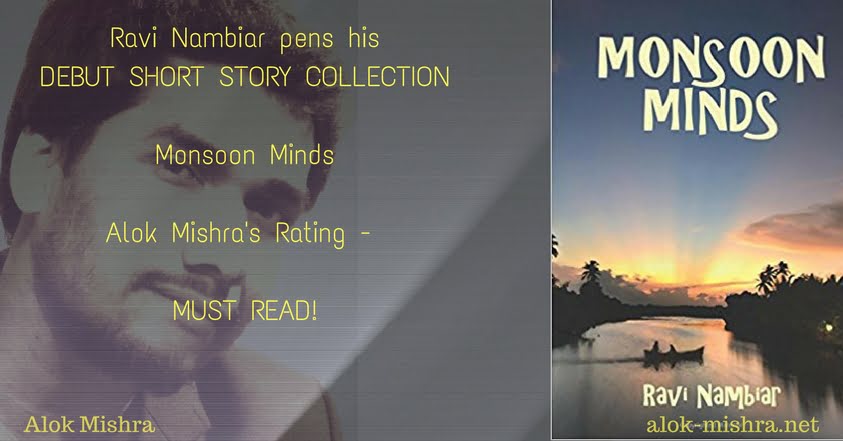 Monsoon Minds is a collection of eighteen short stories and most of them are set in an imaginary village called Bhavli. As the author, Ravi Nambiar, comes from a rural area in Kerala, the backdrop of the stories is somehow justified. He must be using his experience in the village contours and as he told me in an interview, he might be trying to create a space of his own where his characters are born, lead their life and die… Bhavli is an animated place, to accept!
The short stories are full of events, emotion and also a passive kind of element which involves the readers into them. When you start reading the stories in Monsoon Minds one by one or even unorderly, you are transported altogether to a new place where the author wants you to be as a reader. You get to observe the world of those characters objectively and at times subjectively… you might cry with sister Mary and you might get angry at those police officers; you might feel the sense of loss with the character who narrates the story of Sugadamma; you might feel dejected when the love interest of the narrator in 'An Old Love Story' moves away… and so on… the stories will also give you a kind of impulse that life is meant to be moving on. As Ravi himself suggests – there is no use crying over the spilled milk!
Each story in the book is praiseworthy. Some of them, however, might disappoint you the way they end, but, this is for the readers to know that a fiction should not always be for mere entertainment. There must be something which should compel the readers to think and contemplate. The author has successfully done that in Monsoon Minds. I will rate the book highly and recommend every reader who is serious about reading to get a copy of this book and see how the real fiction feels like… We need more and more authors like Ravi Nambiar to create such works!