Hardaul Ek Bharatiya Yuva ki Soch | Book Review
I remember very well that I used to steal money from my mother's hidden corridors of savings. Before you make perceptions about my character, I used to do it for purchasing books! I love reading since the time I learned how to read. Hindi books helped this habit and made me an ardent reader of Champak, Nandan, Nanhe Samrat and some Dhruv Comics series. With time, English literature too joined my Hindi habit and once again, I remember all those childhood days because I have found something worth reading in Hindi novels after so many days – Hardaul: Ek Bharatiya Yuva ki Soch. This is a fictitious account of the legend of Lala Hardaul, the prince of Orchha. Author Rakesh Sharma has done a great deal of justice with the folklore which lingers in the air of Madhya Pradesh and specifically in Orchha.
While the folklore goes straight and simple, the book Hardaul Ek Bharatiya Yuva ki Soch has been modified by Rakesh Sharma in a modern way so that it connects with the youth of India. Written in Hindi as the book is, there is no language barrier between the readers and the folklore – legends are best served in mother tongue! The entry of Hidayat Khan, the conspirator and plotter against Hardaul, makes the story even more interesting.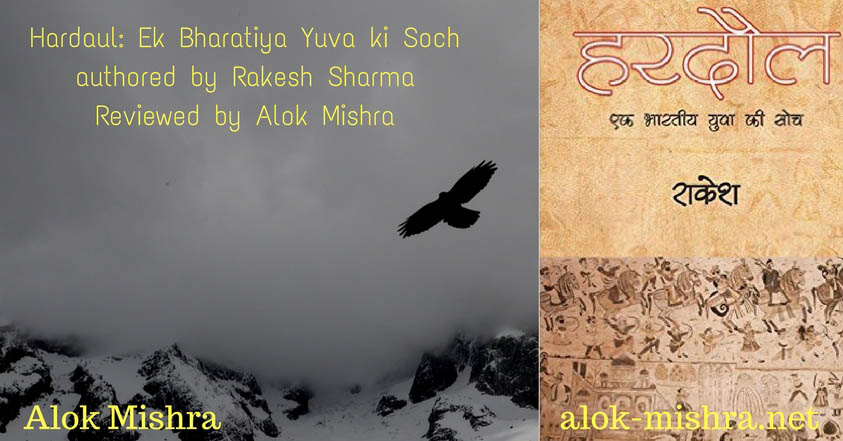 The book begins with the characteristics of Hardaul, the prince, and his aspirations. He is a brave and sharp-witted person who is always ready and alert to defend his state and the subjects. Hardaul has been shown as an able leader who is progressive and always thinks for the betterment of his state. He makes and implements policies; he drafts plans and schemes; he thinks of the security of his state; he maintains good relationships with his neighbouring empires… and so on. In short, Hardaul is a skillful prince who has all the qualities to become an idle ruler of a country. However, with time, things change and Hardaul has to face many obstacles. He manages everything but cannot save himself from the misunderstanding within his family. Jujhar Singh, his elder brother, grows a mistaken case of ego against him which is fueled by the cunning Hidayat Khan. This leads to the unfortunate ending…
This twist in the plot has been handled very well by Rakesh Sharma. He has presented the legend of Lala Hardaul with a re-plugging of story-telling qualities. The book will be a suitable read for those who love Hindi novels as well as for all those who want to love Hindi books! To me, this was a very interesting and entertaining book which I enjoyed throughout! After so many days, I have found myself back in those days of childhood when I used to read stories of the soil… Kudos to the author Rakesh who has done enough of hard work to make this possible! Happy reading folks!