Before we begin:
Greed Lust Addiction by Ravi Dabral is a novel that perfectly suited my thinking, my vision and my expectations from Indian English literature. It has that serenity, a class and also the modern share of thrill and 'fiction entertainment' that the readers of young age need in a novel. Ravi Dabral has been wonderful most of the times except making this novel a little oversimplified at places.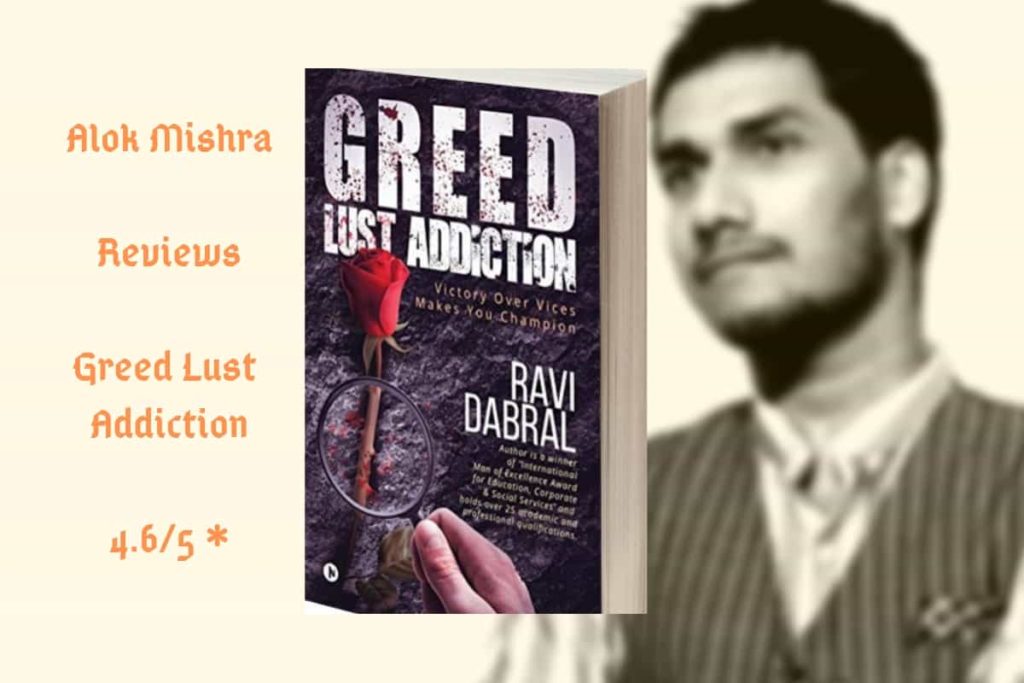 I have been reading a few novels recently. On my reading list, I had two other novels and one by Ravi, Greed, Lust, Addiction. I have read novels with spiritual twists in the past as well but this one is certainly a different level. The most intriguing fact about this novel that perplexes me is that this is the debut novel by author Ravi! I could not expect such mastery over the plot construction and such depth in dealing with a broad theme by the author. To be honest, Ravi has surpassed my expectations on a few fronts in his very first novel!
This novel is based on Ravi's personal experiences with sages and sadhus in Uttarakhand and other parts of the country. He has realised that spiritualism can certainly be the guiding light for the modern society that has been encircled by the vices of greed, lust and addiction (along with many others). In this novel, a reader can clearly see the juxtaposition of thoughts – the evil and the pure.
In the name of characters, the novelist has picked very reasonable ones to portray the prevailing conditions in the modern world. Suraj is an investigative journalist who is supposedly murdered by the criminals against whom he was collecting evidence. Vijay is a young man who becomes a police officer and learns about the corrupt practices in the police line and himself becomes one of those corrupts. Priya, who is the wife of Suraj, is a materialist and greedy woman who compels Suraj for her luxurious needs other than the basic life essentials. Then there are Guruji and a Swamiji who begin working in the direction of making a better society. The sages lead the way and lead the foundation of Human Welfare Party that will contest elections against the corrupt and dishonest politicians. However, the big surprises come all the way and readers will certainly have a lot to add to their thrilling experience. So, I must also observe that Greed, Lust, Addiction is a thriller no less than a regular one!
While I like the plot and the theme, I would like to mention that the author has added elements of spiritualism and Yoga very carefully and in the accurate proportion so that it looks perfectly fitting into space. How can one remain stress-free? How can one practice concentration? How should one spell Ohm? There are many things that Guruji and Swamiji discuss in the course of the novel's development. This experiment in mainstream fiction is commendable and also innovative!
The language used by the novelist is fairly easy. It might be because readers from different age groups can enjoy the novel. However, a little standard version of the narrative might perfectly suit the theme. Plot and theme are just apt enough to become contemporary. I have truly enjoyed reading Ravi Dabral's debut work and I will recommend it to every reader I know – this is different; this is just different and rather conclusive. The author is not only listing the problems that we face as a society but also the solutions that we might need. So, as I often argue, this is the perfect example of a novel that forms a literary whole – a complete circle!
Greed Lust Addiction - Book Review
Summary
A novel for all – any reader with a sense of reading literature will surely appreciate what the novelist has done with his debut work. I am impressed and I am sure this innovative theme with an ample plot will impress others as well.