Dewdrop and Banyan Tree by Ramachandran Rajasekharan: Book Review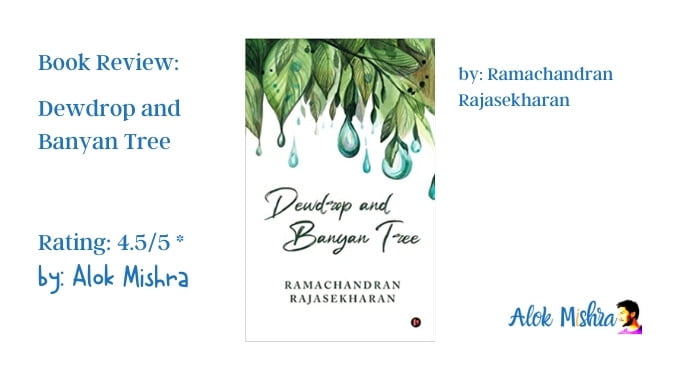 Ramachandran Rajasekharan is a poet of repute, substance, emotions and has the art of poetry within him in plenty. I can say this safely after reading his debut poetry collection Dewdrop and Banyan Tree. This poetry collection has fifty poems. Many poems are about instantaneous reactions by the poet on various emotions, ideas and observations. Mr Rajasekharan's poetry has a multi-faceted structure. You read; you interpret; you read again; you interpret again. Every time you do it, you find various ideas coming to the fore through his poems. It is the quality of a poet to offer the readers a manifold of ideas in the single fold of verse. 
Dewdrop and Banyan Tree, as a poetry collection, does not let the readers slip into the context of any kind. Is this the first publication by the poet? Is this poetry collection a mere expression of random thoughts? Has the poet done the same with poetry as many over-enthusiastic contemporary poets do? These questions will not find any space to rise. Ramachandran Rajasekharan has indeed published his maiden poetry collection. However, he did not do the things that other first-timers do. He has kept his composure. He has given ample space to the ways of expression, as well as the ideas, he has expressed. 
Readers will find many poems trying to connect with childhood memories. A few are written with inspiration from the poems composed by the poet's parents. A few connect with the current scenario – problems, solutions and predicaments. Ramachandran Rajasekharan has kept his poems short, in general. A few have lengths more than a single page swipe in the digital edition. Short poems have more substance than what appears when a reader looks at them. This, I will say again, is the quality of a poet to ensure the readers come back to read the same poem again and again, a few times until the readers find what they are looking for. 
The perspectives that the poet has offered in his debut poetry collection are not new. Many poets have tried to hint at these things. However, how Mr Rajasekharan has brought these perspectives to the readers is commendable. It is because the poet has managed to keep the interest quotient alive while satisfying the readers who look for philosophy, deep thoughts and layered intellect in the lines of the poems they read. 
There are many poems in the collection that I have enjoyed. And I did not only reading them but also used the ideas shared by the poet to think about many things… in life and in general. 
After many years that I have spent reading books and admiring poetry by Indian poets, it is indeed good to find a poetry collection from a fellow poet who vouches for seriousness and permanent values in poetry rather than timely joys. I congratulate Mr Rajasekharan on his maiden publication. I recommend his book to the admirers of poetry by Indian poets. You will have too much to appreciate in too little you read by the poet! Grab a copy today and enrich your weekend with some quality poetry.
Get a copy from Amazon India – click here to buy.
Review by Alok Mishra
Dewdrop and Banyan Tree by Ramachandran Rajasekharan: Book Review
Summary
Dewdrop and Banyan Tree by Ramachandran Rajasekharan is a poetry collection that you will admire and appreciate because of its qualities. Do read it.