Mythological Fiction: How much becomes very much? Writes Nidhi Sharma
Hey, guys! I have been writing for long and for a break, I have given the floor this time to Nidhi Sharma, founder of The Book Blog and a respected senior to me in every possible way. Please enjoy this wonderful article by her!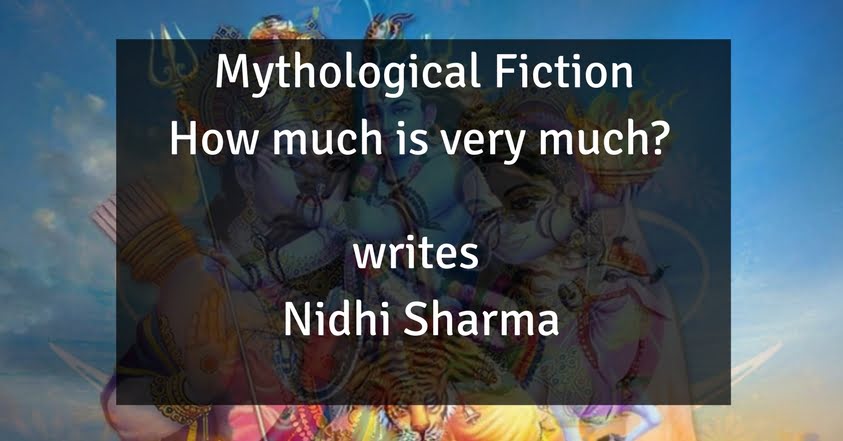 Have you ever visited your old school or your grandparents home after a long gap? Well, if yes, you are likely to find a lot of changes. It's not the same as it used to be. Change is vital; I understand but don't you feel hurt by demolition or a complete change in the structure of your childhood memories? Same thing happened with me. A few days back, in my class, I was discussing our religious preachers and from there we moved on to our holy scriptures. Actually, their response to the questions regarding the same was well expected. They had never gone through our scriptures. They were aware of Dussehra holidays but not its relevance. One of them (shameful to say) mixed Dussehra with Diwali and I immediately checked him. His response was "Whats the big deal mam both are connected with Lord Ram". I felt conscious stricken. I asked them to get updated on the same. But I knew our scriptures are kept safe in a pure atmosphere covered in red cloth with a board "Keep away from children". Therefore children somehow find themselves reading what can better be termed as PSUEDO MYTHOLOGICAL NOVELS.
Yes, they are a modern mix of pseudo history with thrill and adventure, spiced up with romance and garnished with surprise. a few follow the time honoured tradition of suspense elements of regular soaps that appear on television. Always ending in suspense and giving us a long lasting wait for the next series to appear in the market.
Through these novels, it is well ensured that our young generation who clearly don't have an inkling about mythology get a thoroughly muddled up concept of our Hindu scriptures. I really don't find any logic behind mocking our original ancient literature based on our Gods and of the lives they lived. Why at all do we need to rewrite our epics that are perfect in every sense? And even if we need it to be rewritten, why so much spice and decoration are added to make it 'sellable'? I have a serious problem with this and I am sure most of us should have!
In any religion, God is the ultimate source of knowledge and power. We grow up respecting and idealising them. If someone tries to confound that image our whole existence as a devotee is shaken. Just to quote an example, Lord Ram and Sita are considered to be an ideal married couple. A writer recently portrayed Ram's character as not legendary. His writing indicated Ram to be only a puppet following the demands of Sita, his wife. And then the image we have in our mind is shattered. Whom do we look up to if our idols are smashed this way?
Lord Shiva in Shiva trilogy by Amish Tripathi (A Bestseller author) is shown as a refugee, as a "sinister Naga warrior" stalking for his wife Sati.
"an ostracised and sinister race of deformed humans with astonishing martial skills."
Are you being serious Amish? You are trying to imply that what we have in our Shiva Purana and other epics related to Lord Shiva are actually some old files of William Striker mentioning some old X-men – the mutants? That's bizarre and equally insulting!
Our most revered Gods Rudra and Hanuman belong to this tribe in this novel. They are reduced to a status of being merely a sinister deformed Naga.
It was hurtful when I read one of the reviews of this book and a reader had referred to Lord Shiva as "dude of Gods" and the writer was taking pride in this reference. I was shamefaced when I read the interview of the author of these successful books viz The Immortals of Meluha, The Secret of the Nagas, The Oath of the Vayuputras, The Scion of Ikshvaku and Sita: Warrior of Mithila.
"My idea is to educate the youth through stories rather than Satsang," said Amish Tripathi.
What do you know about Satsangs? Have you been in one? Do you know how to break and spell and spell together the word Satsanga? You are one misled youth who knows how to make money by selling the name of 'Gods'. You do need 'Gods' or you might have written about some other forms of humanity. But you know that only God can come to your rescue when you need to do something. Such a shame!
As per him "concept of Lakshman Rekha did not exist in the original Valmiki Ramayana. It was popularised by t.v. series which drew it from the alternate versions of Ramayana."
And I wonder all the idioms and phrases quoting the word "Lakshman Rekha" referring to lines crossed in outrage, suddenly lost their significance.
We all are biological children of our parents but portraying them in a love relation is hardly acceptable. And our Gods kissing and loving each other in the calm night is something which will surely make us uncomfortable!
"Then they kissed each other languid and slow" (Ram and Sita). Oh! I think Chetan Bhagat with all his nonsense is way better than this culprit with some sinister ideas of deforming our ancients!
Why are these vivid descriptions necessary to the plot. Some parts of these novels are absolutely not acceptable.
1) Disrobing and bathing scene. Description of her body, and Sita waiting for her while she continues her leisure bath.
2) Bharat and Shatrughan hugging their sisters in law, Sita and Urmila on their arrival in Ayodhya after marriage. When Shatrughan calmly greets them Bharat calls him formal and goes and hugs. This reminds me of a movie scene.
3) Bharata having an affair with an outcasted girl called Radhika who leaves him and marries someone else.
4) Vibhishan blaming Sita for Shurpnakha's condition in a disrespectful way to Lakshman "What is your sister in law doing with my sister?"
5) Sita and Shurpnakha having petty fights over the food cooked by Sita. Typically daily soap scenario.
6) Nirbhaya like rape case and Manthra's against Ram for having followed the law and for not executing, rapist and murderer.
7) Sita, proposing Ram for a private meeting in her private garden before Swayamvar.
8) Ram telling Sita "I m bored of your pony tail."
9) Sita getting trained under Hanuman, a deformed Naga who comes secretly to meet his sister Radhika and referred to as 'Hanu?'.
These are only a few of objectionable parts of his novels and trust me there are many in a row.
As Amish says "My swadharma is my belief that modern India needs liberal modern message."
I wonder if this kind of "liberal message" is going to do any good to our youngsters. Instead of showing them the path of morality we ourselves are going astray by changing our scriptures which are the only source of our long lived heritage and culture of which we all are proud! Mocking our originality in this way through dumb levels of writing is highly inexcusable.
May be the writer is trying to explore the unexplored terrains of mythology but why at all do we have to stoop our scriptures to the levels of a B grade movie script. Yes, these novels are merely good for movie best sellers. Involving all the elements for making it a superhit but carrying zero respect for the characters.
Before our generation starts patronising these fake images of God created by such writers as Amish Tripathi and believing events and incidents that take birth from probably folk lore or writer's imagination we have to create this awareness in our youth about the real incidents of our mythological past. They may be a work of fiction as cited by the author but I am offended by the characters and places of reverence to be moulded in this way. We by birth respect and worship even the birth place of our Gods. Lakhs of devotees take over a rigorous journey to Kailash Mansarovar not for visiting a Tibetan refugee, Naga. But for our avidly worshipped Lord Shiva from whom this whole universe evolves and finally dissolves.
I go back to my childhood and find 'Amar Chitra Katha' better than these best sellers. They didn't demolish the image of Gods that were inscribed by my ancestors in my impressionable mind and character.
by Nidhi Sharma