Moral Fiber by Shawn Vij – Book Review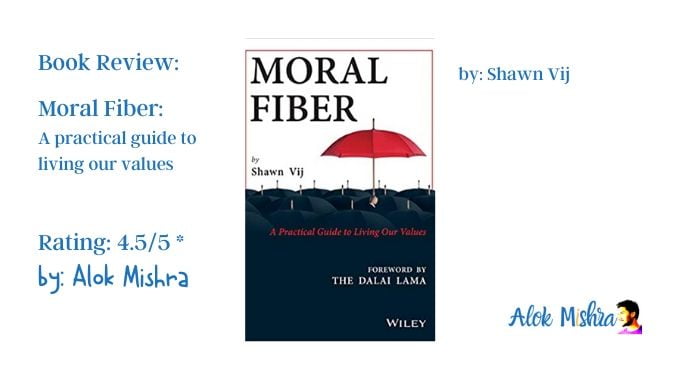 Shawn Vij has written Moral Fiber with inspirations from his personal experiences in the days of struggle as well as the days of glory. To add to this, he has also mentioned the inspirations that got after meeting with The Dalai Lama and his contact with the ancient Buddhist scriptures that preach peace, affection, compassion and patience along with many other virtues that we can name or forget to name. In short, Moral Fiber is what Shawn emphasises on cultivating especially by those who are into 9 to 5 workplace life. In this review, I will try to let you know more about the content of this book.
The book has a foreword by Dalai Lama himself. It adds value to the book because Dalai Lama's letter of appreciation emphasising on the qualities and need of this book is emphatic, indeed! Overwhelmed by this side of the book, when a reader veers into Shawn's own experiences mentioned in the book, it becomes evident, apparently enough, that the author has experienced too many peculiar and usual things in his life to be able to write this book.
The focus of the book, as you will be able to see and gather from the tone of the writer, has settled more on the corporate and workplace culture. How do we maintain ourselves in the office? How do we ensure that we don't become unethical, robotic and totally a different person on the job? These things come one after another as you go further deep into the book. Shawn introduces you to his theories, concepts and discoveries in terms of problems as well as solutions. He talks about the 4Ds which are you enemies of the worst kind. He also talks about the ways to keep these unwanted things away from your life and your workplace.
Talking about what makes this book, Moral Fiber by Shawn Vij, a different book from many other books that I have read in the past and you may also have read. The very first thing that might strike your mind is that it is not a typical self-help book which will make you realise that you lack many things and you need many things. Shawn tells his readers that they are good enough to recognise the values, ethics and moral part of their being and begin acting upon those. So, the book just tries to help you with 'rediscovering' what you already have. Many other books, on the other hand, tend to make you feel inferior and demands heavy tasks from you in order to make you better. Shawn's is entirely different!
With all its qualities and strengths, the things it tells the readers and the quality advice that Shawn has for his readers, which he earned the right to offer by his extensively hard-worked efforts, Moral Fiber is a work that tries to convince the readers to succeed without giving up their moral or virtuous side. Shawn talks of success without churning one's soul in the mill of the corporate world which shows no mercy! However, the book certainly has its limitations and it may not be, rightly so, considered a go-to book when it comes to corporate ethics. Nevertheless, with the qualities and strength it has, this is certainly a very valuable addition to your list of books when it comes to reading for your professional well-being and intellectual growth.
You can get a copy of Moral Fiber by clicking the link to Amazon India below:
Buy the book now: Amazon India link – click here
Review by Alok Mishra
Moral Fiber by Shawn Vij – Book Review
Summary
Moral Fiber is a book meant to be read and understood by the corporate professionals who look for motivation as well as a moral code of conduct that might save them from losing their essence at the workplace.