Marry Me, Ms. Stranger by Srinithya Srinivasan – Book Review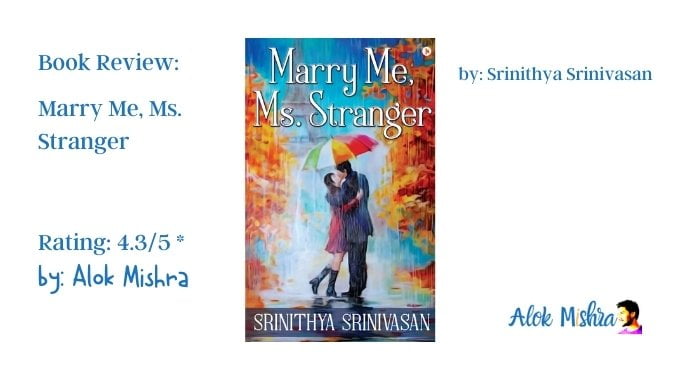 Marriage has been at the centre of the discussions when we think about women, girls and even young people irrespective of their sexes. However, marriage in literature, with a focus on Indian literature, has not been that frequent or serious except for a few landmark works of fiction such as the one by R. K. Narayan – The Bachelor of Arts. A recent novel that attracted my attention, because it has utilised the theme of marriage, is entitled Marry Me, Ms. Stranger. This novel has been written by a debut novelist Srinithya Srinivasan. Written by a woman novelist and representing the views of a woman protagonist, narrated by a woman central character and depicting the issues related to marriage from a woman's perspective… this could not be just another ordinary piece of fiction and that's what compelled me to read the novel. And here is the review of the book for all of you.
Srinithya's novel is written in the first person. Janani Iyengar is the protagonist and narrator of the novel. She narrates her story and the readers will read everything as Janani perceives it, feels it, realises it or thinks. Well, this gives rise to the fear of error of judgement, no doubt. However, the novelist has done her best as she could. You will realise it once you finish the work.
Though the novel opens up to the readers with a very distinct contrast between the protagonist and seemingly the antagonist in the form of Aman Rajput Singh, the character who proposes an out of the blue marriage to Janani on the night of her marriage that couldn't take place (with another man). Isn't that too much? Well, the readers might think that Janani might be feeling depressed or worried or even sad because her supposed marriage couldn't take place. However, nothing is like that… Janani doesn't feel even a shred of worry and she is rather happy as she was saved from entering into a marriage… she doesn't want to get married. But, what about this new proposal? Why does a super-rich guy like Aman want to marry her? Why does he want secrecy about this marriage? There are many questions that might emerge in the minds of the readers and this might create an antagonised figure of Aman… however, there are often two sides of a coin and here also, the same stands true. Readers will get to know another side of Aman as they continue reading further.
Srinithya has dealt with the issues related to marriage and women's say in it very delicately. She has kept an overall impression in the novel as a comic background where the readers will experience too many opportunities to laugh at things they might find amusing. However, beneath the apparent layer of comedy, there is also a realistic and bitter image that we often ignore – women's role in key decisions about their lives. There is a demanding narrative that tries to make the readers realise what an average woman wants from her parents as well as from her husband or partner – trust, respect, transparency and love.
Srinithya Srinivasan's novel has most of the things that make a contemporary novel by an Indian writer. It is to note that she has many things more than what could make it a readable piece of fiction. Her language is simple, to the taste of the general readers of the day. The theme in her debut novel is important, dealt fairly enough and elongated to a full-length fiction in spite of the limitation apparently there… this is something that a reader will certainly appreciate. Janani Iyengar, her mouthpiece and the protagonist in the novel, will be remembered for sometimes by the readers… she is bold, open about her thoughts, expressive in terms of her emotions and proud of whatever she is… a complete character who can be the torch-bearer! I am sure that the readers will enjoy reading Marry Me, Ms. Stranger for more than one or two reasons. They can find their own reasons once they finish the last chapter. All the best!
Get a copy of this novel from Amazon India in paperback or Kindle format by clicking the link to Amazon below:
Buy Srinithya's novel – click here to buy from Amazon India
Review by Alok Mishra
Marry Me, Ms. Stranger by Srinithya Srinivasan – Book Review
Alok Mishra's Fiction Score
Summary
Recommended? YES.
Speed of the novel: Average, compelling but slow.
Characters: Two-horse race. Intriguing. Readable and enjoyable.
Length: A little more than what might have sufficed.
Overall impression: The theme of the novel is protracted very well by the central characters. Impressive!