Terrorism has no religion or if there is at all any religion involved in it, as the popular belief goes, that is a purely misguided form of Islam. In the name of Jihad, youths are rallied to enter into the inferno which directly takes them to death, without a doubt and all this has been brought to light by the wonderful fiction that Anita Krishan has written – Despite Stolen Dreams. Her novel provides us with the narrative which often remains hidden because of all the pompous show and hue and cry – Anita Krishan's fiction tells us what we generally miss. I have recently finished reading Despite Stolen Dreams and the first thing I would like to tell my readers is that I really loved this piece of literature! Anita's exploration of the theme of terrorism is not inspired by any hidden propaganda or her personal whims. Her handling is objective; her narrative is reader-friendly; her plot is enjoyable with certain elements of surprise and the fiction, overall, is simply amazing! Here is my review of the novel: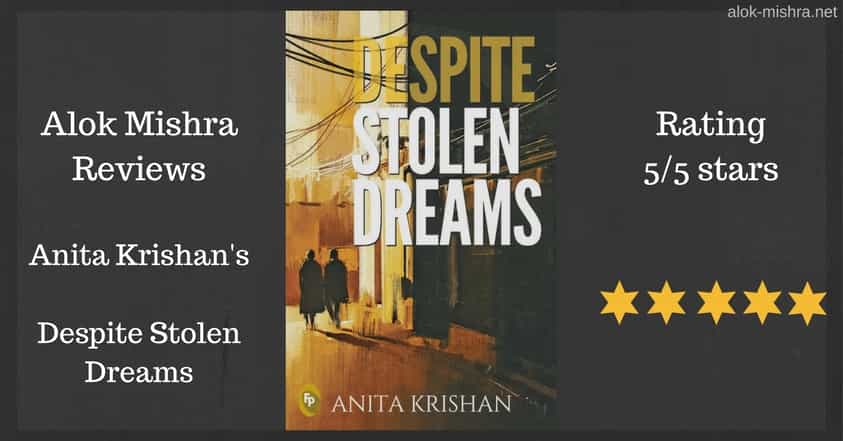 Hope is there:
The novel will open to you a world which is full of vice and poison. In the Madarsa, the pressure on the Maulvi to prepare terrorists instead of gentlemen and then the funding from the Arab world and then finally the takeover by the militants, there is no hope… it seems that the novel will give you another film-like thrilling experience without any room for the literary qualities on the display. YOU ARE CAUGHT! YOU ARE WRONG! As soon as the Wali Khan's family arrive in Delhi, everything about the novel changes. Wali is a traditional Kashmiri person who has a lot of problems adjusting to the heat and dust of Delhi but his son Salim does everything possible to make him comfortable. Wali family is horrified by the terrorists and they have to leave their homeland in very adverse circumstances. They flee with hopelessness but in Delhi, everything changes when a few days pass… Wali finds a companion in Kashmira Singh, a happy-to-go Sardar Ji. Wali's wife Sakina finds herself settled with the household and kitchen job. Meher, Wali's Daughter, gets her admission in AIIMS and in a very pleasant episode, marries the love of her life… you need to read this to find how wonderfully Anita has made that episode purely humane – away from the magical realism, the contours in the novel are perfectly within the ambit of human perspective and practical…
The Metaphor: Love can change all!
When Wali is new in Delhi, he is seen with disdain in the society he dwells. Young persons on the road bully him and elders doubt him of being a terrorist just because he is a Kashmiri. However, the perfect bonhomie with Kashmira Singh changes everything. The usual angry and rude and sad chaps in the society begin to change and all have sincere love for Wali as the time flies and many episodes take place – tragedies, happiness, deaths, threats, fear, and transformation. There is certainly underlining – love is the thing which brings hope and hope is the thing which brings calm. Transformation of Shakeel is another fine example which Anita Krishan has sketched in Despite Stolen Dreams.
Storytelling and other Technicalities:
Anita Krishan, the popular novelist, has been an English literature professor and she must have read as well as taught some of the finest novels ever produced in the English language as well as in translation. You will be finding a reflection of those in her craft of fiction. There is a plot in the novel – Wali Family and his happy explorations with the world outside the zone of terrorism and fear. There is a subplot in the novel – a terrorist realising the brutality he is supposed to commit and the deaths he summons without a certain cause… the story of Shabnam and Shakeel, towards the end of the novel, is certainly amazing and you must be reading the novel to the end! Another good news in this section is that the novel, though written in a language which stands somewhere very much above the language used in contemporary fiction, is compelling and a gripping read. You will be pushed and rushed through the chapters because of the intriguing plot and attractive narrative. It never settles and rests – Despite Stolen Dreams keeps moving and only finds a full stop once the novel ends.
Final Verdict:
I haven't read any modern fiction which is as versatile as Anita Krishan's novel is! I am being honest and I find myself highly enthusiastic that I found this piece which is not only amazing for the readers but also a much-needed effort which was ought to be made by some serious author. A fine contribution to the contemporary literature in India! You must read this piece and see for yourself the reasons behind my high praises for the novel!
Get a copy:
You can get yourself a copy of Despite Stolen Dreams from Amazon India link below:
Despite Stolen Dreams on Amazon India
Despite Stolen Dreams by Anita Krishan
Summary
Alok Mishra rates this novel a 5 out of 5! Despite Stolen Dreams juxtaposes two worlds wonderfully – the world of terrorism and the world of happiness. Wali and Shakeel are two characters who meet catharsis in the novel in two entirely distinct ways. You MUST READ this wonderful piece to understand why Alok goes all out praising Despite Stolen Dreams!