Bharat ke Tukde: Poem on Patriotism vs Anti-nationalism
राष्ट्र विरोधी ताकतों के नाम एक सन्देश
कविता के माध्यम से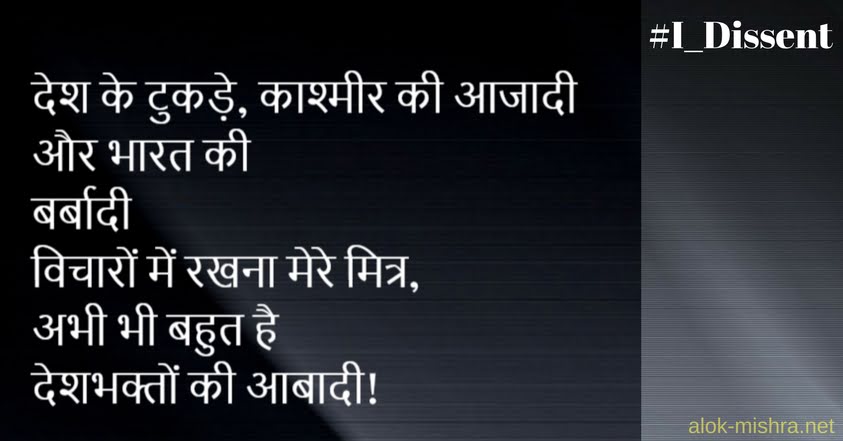 कर ही दो अब भारत के टुकड़े
और ले लो कोई कोना तुम लोग,
वहीं ख़ुशी से नाचो गाओ
विरोध स्वर में नारे लगाओ
अपने टुकड़े को भी और तोड़ते जाओ।
पर जाओ, मेरी बलिदान की धरती से दूर जाओ
और ले जाओ अपने साथ 'दूषित' अभिव्यक्ति की आजादी को भी
की आजीज हो उठा है अब हृदय हमारा
और व्यथित हो चले हैं कर्ण पटल
सुन-सुन के 'भारत की बर्बादी' के बोल!
ये पृथ्वीराज की ही धरती है और कलाम की है ज़मीन
सिकंदर का गुरुर भी हमसे न सका इसे छीन,
पर दे देंगे तुम्हें एक कोना कहीं
की हम तो लाहौर भी देने वाले हैं…
पर गर उस सीमा से बाहर
फिर आये बर्बादी के बोल
बस दुआ करना की न हो किसी
देशभक्त का हृदय फिर भाव-विहोल …
पर अगर रहना हो यहीं
(की और जाओगे कहाँ सुकूँ की मिट्टी छोड़के)
तो याद रहे एक बात:
देश के टुकड़े, काश्मीर की आजादी
और भारत की
बर्बादी
विचारों में रखना मेरे मित्र,
अभी भी बहुत है
देशभक्तों की आबादी!
Friends, already been a while listening to these hate-mongers and anti-national elements since the last year's JNU episode. I don't really see what their motive is – they might be surely playing into the hands of politicians who in turn play into the hands of ISI or some other foreign agencies who cannot digest India's growth and a strong presence on the various world stages. Whatever, whatever be the case, can you simply sit back, relax and see all this taking place without registering your quota of 'dissent' and freedom of expression? Might be the case in the case of some of those who don't bother about the motherland. However, to me, it's impossible! I will also express my opinion and use my share of constitutional right which allows me also to register my opinion upon someone else's. The fire that erupted in the JNU campus is getting out of that confinement and has already begun to pollute the air outside. I chose to oppose it, would you? The choice is yours! I am proud of my country and I cannot tolerate someone raising slogans on our soil to break it into pieces and destroy it! I WILL DISSENT!