Telegram Literature Group – Studying English Literature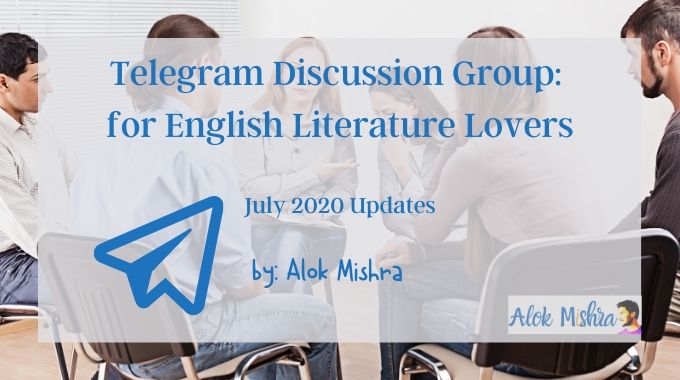 Group name: Studying English Literature
Group created by: English Literature Education (a platform where you can find free English literature notes & more)
Group policies: You can post literary stuff. You can raise literary questions. You cannot share anything that's not related to literature.
Telegram Group Link: https://t.me/StudyLiterature
Hello, literary enthusiasts!
I have been very sceptic about Telegram hitherto. I did not use the platform before July 2020. Once I began using it, I knew about powerful this medium can be when it comes to sharing one's views and creating discussion forums of like-minded people. And then, the idea of creating a virtual literary association, without boundaries and limitations, flashed in my mind. Studying English Literature is the result of the same. This is an open group on Telegram and you can join it by clicking the link above. However, make sure that you stick to the policies that we have, applicable to all the members with no exceptions.
What do we do in the Telegram English literature group?
There is a distinction. It is not a channel as many channels are available on Telegram. While channels believe in monologue, we believe in discussions where people can participate, raise questions, give answers, share opinions and so on. We believe in exchanging literary ideas with each other and we expect you to do the same. You are invited to share your ideas. You are invited to show your acquaintance with literature. How much do you know Marlowe? How do you look at Shakespeare's works from outside the literary circumference? Was Wordsworth really a great poet? And many things like that… You can participate in literary talks and enjoy your liberty – share whatever you think!
What more do we plan to do?
As the group size increases, we will have more clubs, based on specific requirements. For example, we are planning to create divisions on the basis of interest areas – if you want to discuss literary criticism & theory, you will be able to join the specific group, discussing only theory & criticism; if you want to discuss poetry, you will be able to join poetry only group and so on…
The possibilities are endless and we are looking ahead for all those. If you are a literary enthusiast, you are welcome to join us on the journey that we all might have thought to pursue someday.
Please note that we are only looking for serious literary enthusiasts. Join only if you have a deep interest in literature and you want to look beyond your likes and dislikes in literature.
Looking forward to seeing you in our literary discussion group! Join here: https://t.me/StudyLiterature