Literary Entrepreneur: what it takes to become one?
Literary Entrepreneur
There might be nearly one lac definitions of an entrepreneur in the modern context. However, if I twist the question and mix two breeds together – a literary person & an entrepreneur, what do we get? We get a literary entrepreneur and the definition of this hybrid personality, I believe, is tough to find out. So, what does it take to make a literary entrepreneur? No no, certainly, I am not talking about Chetan Bhagat being a literary entrepreneur. He is a day-to-day author making bags with his youth-soothing works. I am talking about 'literary'.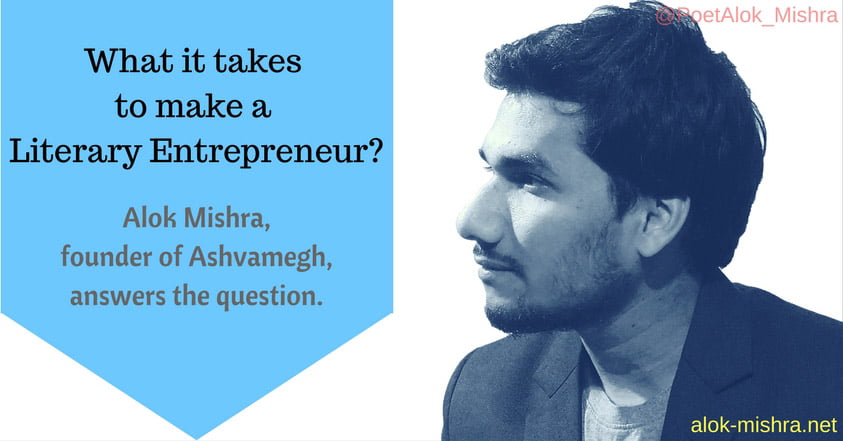 So, what does it take?
The question takes my mind back to another question. Can someone make money by writing poetry today? The answer, even if it is yes, would not offer the money which might be enough for a livelihood. However, can someone do something around poetry which might bring about a chance to make money, enough money to survive with all essential and some luxurious lifestyle? The answer is YES! All that it takes is courage, as much as in civil entrepreneurship, and zeal.
The experience speaks:
I began my career as a content creator and pursued it almost a year. What else could an MA in English do in the corporate sector? Shakespeares and Marlowes and Eliots can do absolutely nothing behind the glass doors! However, suffice enough, I learnt the basics of corporate affairs, management, the world of digital opportunities and of course the functioning of a 'boss'. Once I had enough of it, I quit! Back home and I began working on my magazine that I established in January 2015. The literary taste and knowledge of the corporate needs that I accumulated during my short-term office drab helped me in pushing Ashvamegh where it is today. After all, what does an entrepreneur do? He just sees and grabs the opportunity between the target audience and their needs. And what is the need of the literary audience? A platform, little popularity, some exposure to the world and all done!
The things a future literary entrepreneur must learn:
Write a lot! Whatever you do, you need to learn writing extensively and this writing, my dear, must not stop! Things other than writing that one needs to learn are finding out the interest and its potential target, management skills, multitasking, time-keeping, keeping many to-do lists and shifting from one to another… and last but not the least, you need to read as well. Never forget that you became literary only after reading a lot and you need to keep the flair alive. If possible, make your study room a library as well. Have books in plenty and read whenever you find the time or invent time to read.
All set? Wondering where to start?
The simplest thing today that a literary entrepreneur can start is turning oneself into a literary reviewer. The world is full of authors and you will find in plenty the guys who keep wandering website to website for a review of their books. So, why don't you become the messiah? Start reviewing books and brand yourself as a book blogger. Once you make a little name for yourself over the internet, garner likes on your facebook page and earn some followers on twitter with considerable connections on LinkedIn, you are all set to be the literary entrepreneur! Begin by charging a small sum for your reviews and then keep pressing the accelerator with time. Ashvamegh is offering an opportunity for book bloggers
Investment?
All free if you wish to test the waters first. Nevertheless, if you are confident and want to start as a professional (which is a better option), you need to purchase a domain and a hosting service to park it and you are ready to launch. The cost would be around INR 3,500 a year or $ 60. Isn't it awesome?
So, are you ready to become a literary entrepreneur? Don't waste your time looking at the edge; come in and join the galaxy of thousands who have already started things up. Let's celebrate literary ventures. Let's show them there is more a literary person can do…