Alok Mishra as a Poet The Journey of Poetry
"Poetry is anywhere and everywhere. It is as simple as that. You do not need to march out with a searchlight in your hand to find poetry!"  Alok Mishra
Words from Alok Mishra describe poetry in such a way. True, when we try to concur these words with John Keats' who hailed:
"The poetry of earth is never dead:"
"You need the heart to feel; a mind to think; a soul to realize, and if needed, eyes to see. You will feel poetry; you will think poetry; you will realize poetry, and will be able to see poetry floating with the wind!" Alok Mishra
[fusion_builder_container hundred_percent="yes" overflow="visible"][fusion_builder_row][fusion_builder_column type="1_1″ background_position="left top" background_color="" border_size="" border_color="" border_style="solid" spacing="yes" background_image="" background_repeat="no-repeat" padding="" margin_top="0px" margin_bottom="0px" class="" id="" animation_type="" animation_speed="0.3″ animation_direction="left" hide_on_mobile="no" center_content="no" min_height="none"]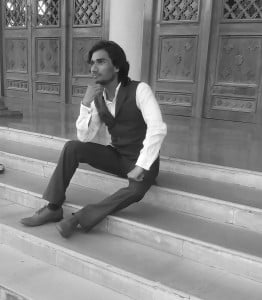 The journey of Alok Mishra as a poet has been a 'just another after T. S. Eliot'. His introduction with poetry happened late in high school. However, Alok enjoyed poems in his early schooling days. He took pleasure in chanting the lines 'All things bright and beautiful,' 'Little drops of water,' 'Rainbow in the sky,' and many others. It was his high school syllabus that offered him the poem "Sympathy" by Charles Mackay. "Sympathy" gave a chance to Alok to feel poetry. He came to know about the 'happening' of and in poetry.
"Poetry is the expression of agony, as well!" Alok Mishra
It was the beginning; Alok took the course of literature and poetry afterwards. He began to revel in poems and poets. English Literature became the first choice of Alok Mishra for his graduation. It happened to result as a wise step towards the realms of poetry. He came even closer to the world of words. Though immature, the volume of Alok's writings increased. He was learning, learning and learning!
"The powerful verse of Marlowe; the life-melody of Shakespeare; the wit of Thomas Nashe; sarcasm of Bacon; other sided music of Webster; the melancholy of Gray; mysticism of Blake; wise emotion of Wordsworth; self-decaying Love of Keats; revolt of Byron; learning of Arnold; phased of Yeats; anguish of Eliot; realism of Tabish Khair; management of Abhay K, and simply – the weight on my bones of the literary culture has shaped the poetry in me!"  Alok Mishra
Alok writes on every possible topic. For him, not the metre, but the message matters. Specifically, Alok writes more about humanity, humane, darkness, spirituality, beauty, love, death, and the modern insanity that human civilization has newly caught.
"Though I have been writing for long, I do not say my verse 'a mature poetry'. I believe in learning new things, new things from every moment. I read more than I write; I do believe it will continue the same. Only death is mature poetry that comes to you by itself; you do not have to attain it." Alok Mishra
Publications of Alok Mishra: The Books or Journals

To his credit, Alok Mishra has one book, Being in Love. Moreover, his poems have made their way to various anthologies. Major of them remains "The Happy Isle" and "The Rainbow Hues" published by the International Poetry Festival Organisers. His poems have been published in newspapers and some local daily. Digitally, Alok has authored an E-book, The Still Hour Glass, published on Amazon Kindle Store. Poems of Alok Mishra also appear online on various websites.
In the recent past, Alok has published one anthology of poems – 13 Untitled and Weird Poems. This is a collection of only 13 poems which are short in length and weird in nature. You can access this book on Amazon Kindle here:
[/fusion_builder_column][fusion_builder_column type="1_1″ background_position="left top" background_color="" border_size="" border_color="" border_style="solid" spacing="yes" background_image="" background_repeat="no-repeat" padding="" margin_top="0px" margin_bottom="0px" class="" id="" animation_type="" animation_speed="0.3″ animation_direction="left" hide_on_mobile="no" center_content="no" min_height="none"]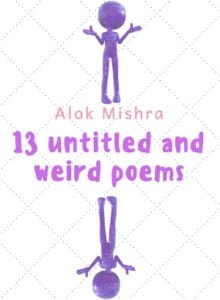 [/fusion_builder_column][/fusion_builder_row][/fusion_builder_container]